Allgire Foundation 2022 Gala
Thank you to all the guests and those involved in making the experience special. Share, experience, and enjoy the highlights of the night below.
What WE've Accomplished in just two years
When we formed the Allgire Foundation as a retirement gift to Rick and Mary Ann Allgire for their tireless work in affordable housing for over 30 years, we had no idea what we were doing (some say we still don't!)! Now, a little over two years later, we're trying to make a difference in the affordable housing communities that Allgire General Contractors has been a part of for so long. The Allgire Foundation has been able to complete over 30 campaigns helping over 60,000 residents in 150+ affordable housing communities and we're just getting started.

In addition to working to Transform Lives by Creating Opportunities, the Allgire Foundation is now working to Transform Lives Through Education and has awarded numerous scholarships to those impacted by affordable housing with a push to award even more scholarships in the coming months and years.

The Gala Recap
The Beginning
After opening remarks, the Gala kicked off with a summary of how it all started for Allgire. The walk down memory lane included Allgire's early projects and its humble beginnings.
Relationships
Allgire cherishes the relationships developed over its 30+ years of building affordable housing in San Diego. Celebrating and highlighting relationships, new and old, made the Gala a treasured event.
Allgire Team
The heart and soul for Allgire is its team. The enthusiastic and passionate group never quits and always gives 100% to every task. Everything that gets done is because of the team and "proud" doesn't even begin to do justice to what the team means to Allgire.
Design
Highlighting the work of the creative and imaginative architects and engineers that create safe spaces for affordable housing residents brought it home for the audience. Understanding their methods and rationale for creating beautiful projects inspired us all.
Development
Honoring the determined and fearless developers that pour their hearts and souls into affordable housing projects meant the world to Allgire. Their impact is felt for decades and they're the reason Allgire does what it does.
Teamwork
Allgire has been able to accomplish its goals because of the unbelievable teamwork of incredible individuals. The team of volunteers, family, friends, colleagues, team members and everyone in between works tirelessly to get it all done and of course we were going to celebrate them at the Gala!
Trade Partners
Making sure Allgire's trade partners were part of the Gala made the evening extra special. Allgire's trade partners' dedication shines through in every project and campaign we work on together.
Allgire Family Tribute
The Allgire Gala wouldn't have been complete without honoring the Allgire family. Their longstanding commitment to the affordable housing community in San Diego and their genuine desire to give back was what the Gala was all about.
Bloopers
No evening would be complete without a blooper reel! Knowing the blooper participants provided powerful and inspirational messages during the Gala made the laughs even sweeter.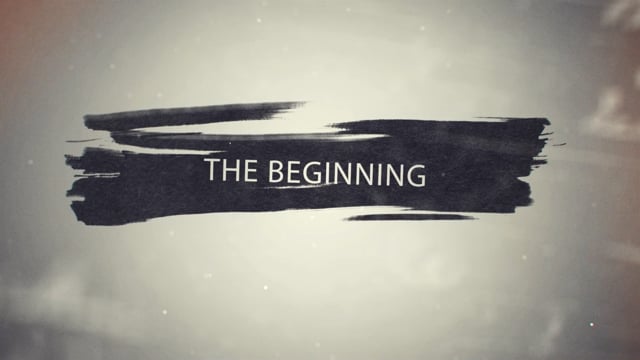 The Beginning
Relationships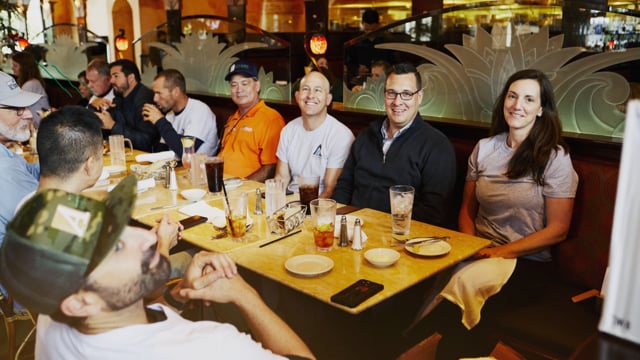 Allgire Team
Design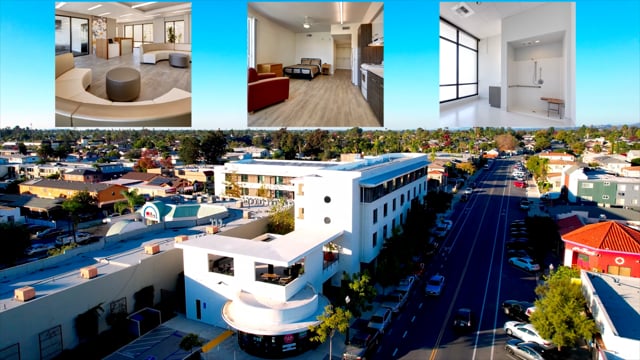 Development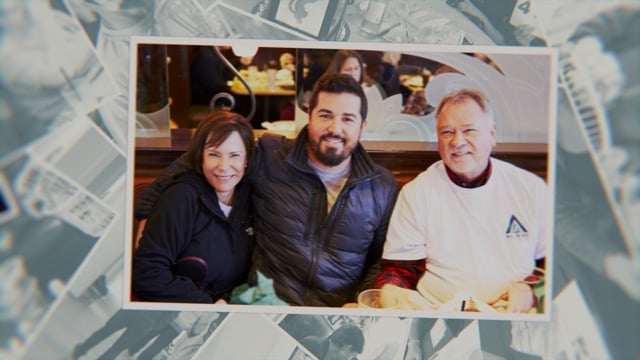 Teamwork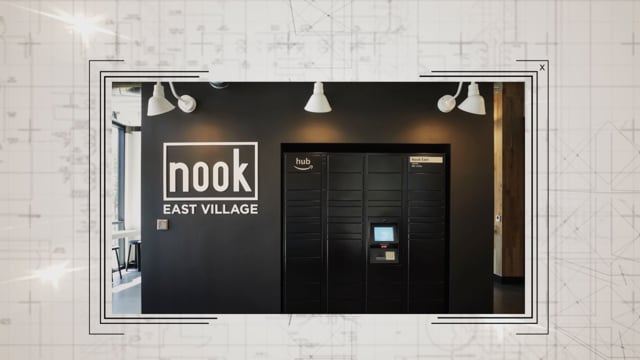 Trade Partners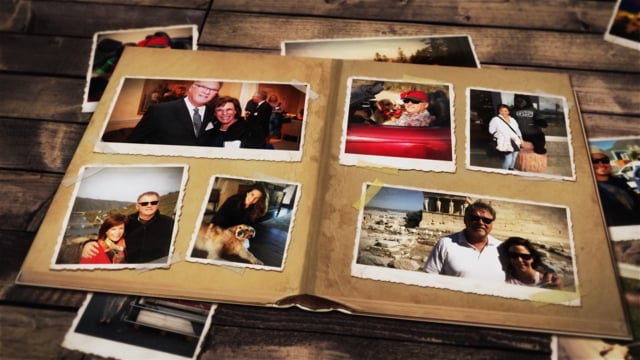 Allgire Family Tribute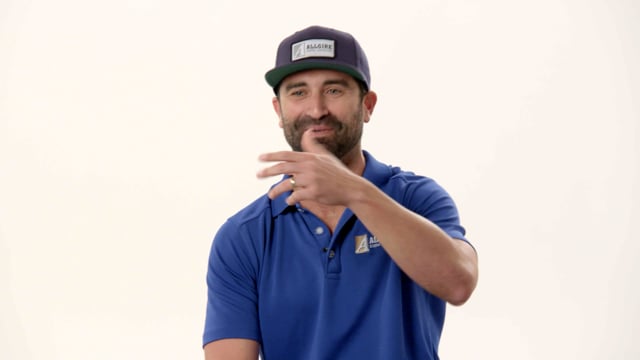 Bloopers
Raffle Winners Enjoying Their Prizes
Surf Trip
The Surf Trip prize from the Gala happened in late October. Along with 8 Gala raffle winners, 20+ clients, colleagues, trade partners, team members, and friends loaded onto the Limo Bus at Allgire HQ for the once in a lifetime trip to THE Surf Ranch in Lemoore, CA! In true Allgire fashion, the trip was an adventure: Broken down bus, impromptu side of freeway fix, charcuterie boards on a bus, far too many snacks and swag, way too much expensive wine (beer and spirits too), incredible food from start to finish, torn quad and an ER visit, yoga, wakesurfing, efoiling, paddleboarding, and the most epic full weekend of surfing perfect waves ever! The camaraderie experienced and friendships forged are forever. Stories for days…and all for a great cause! Thank you for the memories!
Vegas Adventure
The Gala Vegas Adventure package winners packed a ton of fun into a weekend adventure. They flew to Vegas, stayed at an MGM Resort for the weekend, ate unbelievable food, drove off road trucks, and topped it off by racing exotic cars! Thank you to all the Gala guests that participated and thank you winners!
Vegas Spa Day
The two Gala Vegas Spa Day winners enjoyed a special weekend relaxing and rejuvenating in Las Vegas. The package included airfare, hotel stay at an MGM Resort for the weekend, a show of their choosing, massages and other relaxing spa treatments, and of course plenty of food and drink! We appreciate the support!
Gala Speakers Made A Difference
Dave Harshbarger
Dave reluctantly, and against his better judgment, gave Rick Allgire his first job in construction and after a few short years, Rick was moving up the ladder and on his way to founding Allgire General Contractors, which eventually led to the Allgire Foundation. Dave kicked off the evening with heartfelt stories of the old days!
Jim Silverwood
Jim, CEO of Affirmed Housing Group, reminisced about the early days of developing affordable housing projects in San Diego with his go-to General Contractor, Allgire. Jim reminded the Gala audience of Rick and Mary Ann Allgire's passion for helping others and how the Allgire Foundation would be a lasting legacy.
Dale Harshaw
Dale, Allgire's surety broker since day one, took the Gala audience on a tour of what makes Allgire a successful General Contractor: character, reputation, and integrity. Dale spoke of his strong relationship with Allgire, first with Rick and Mary Ann, and now with Grant as a second generation contractor, and his words of wisdom were priceless.
David Allen
David's lighthearted and fun stories about Allgire, Rick and Mary Ann, and the entire team, highlighted how important relationships are and how strong bonds are forged. David brought home the message about helping others and making a difference in people's lives.
Patrick Early
Patrick, Allgire's Senior Vice President, informed the Gala audience how the commitment to teamwork guarantees the success of an affordable housing project, from the client to the deign professionals and engineers, to the trade partners. Patrick tied it all together to show how teamwork is adding to the success of the Allgire Foundation.
Mike Silvett
Mike, Allgire's Senior Project Manager, spoke about his own journey as a fresh out of college graduate looking for a job to a successful career as a project manager. Mike stressed the Allgire motto of work/life balance and having fun doing what you love, including helping others through the Allgire Foundation.
Wyatt Barrett
As Allgire's Senior Estimator, Wyatt talked about making a difference in people's lives and giving back to the affordable housing community where we work and live. Wyatt reminded the Gala audience why the Allgire Foundation existed and how we all can do our part to help.
Peter Armstrong
As Wakeland Housing & Development's VP of Real Estate Development, Peter's touching and moving speech confirmed why developers do what they do, the people that need assistance, and how to make in impact in our communities. Peter inspired us all to be better and spoke about how the Allgire Foundation is making a difference.
Eric Naslund and Maxine Ward
As principals of Studio E, Eric Naslund and Maxine Ward design every affordable housing communities with the residents' best interests in mind. Studio E creates safe environments for residents where they can thrive and prosper and with the continued effort from Allgire, continue to flourish for generations.
Joanne Pieper
As a longtime educator, daughter of Mary Lou Allgire, and sister of Rick Allgire, Joanna spoke passionately about the Allgire Foundation's scholarship program and how the Allgire Foundation was transforming lives through education.
Jenna McDermott
Jenna walked the Gala audience down memory lane about her late husband, Mike Pavco, who was well known, respected, and loved by the affordable housing community in San Diego. Jenna reminded us all about the power of giving back and proudly introduced the Allgire Foundation's Mike Pavco Memorial Scholarship.
Ginger Hitzke
As the unstoppable force behind Hitzke Development Corporation, Ginger implored the Gala audience to have fun doing what you love. Ginger showcased the early days of Allgire, her strong relationship with the Allgire family, and provided a touching tribute, and introduction, of Rick and Grant Allgire.
Rick and Grant Allgire
Rick and Grant both gave moving speeches about their families, important people in their lives, and they reminded us all what respect of others is all about. Rick and Grant paid tribute to everyone that contributed to their success over the years, including the entire Gala audience!
Margo Whitchurch and Scott Silber
Margo and Scott co-hosted the Gala and kicked off the evening with fun and inspiring information about Allgire General Contractors, the Allgire Foundation, and the Allgire family. Margo and Scott championed the Allgire Foundation's mission to transform lives by creating opportunities. Margo and Scott closed the evening with a special toast!
BIG THANKS TO ALLGIRE GENERAL CONTRACTORS
Thanks to Allgire General Contractors' provision of office and warehouse space, supplies, vehicles, and workforce, the Allgire Foundation has NO overhead. 100% of every dollar raised is used for residents of affordable communities as we Transform Lives by Creating Opportunities.